Establishing the Fundamental Differences Between a Control & a Procedure
As an organization prepares for its first comprehensive Service Organization Controls (SOC) audit, the board of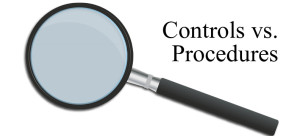 directors and other personnel involved will undoubtedly want to approach the situation with a firm understanding of the entire process and all the terminology associated with it. An organization can help make the entire auditing process painless by being more knowledgeable and minimizing the learning curve. To provide a stronger sense of transparency and answer any concerns ahead of time, we are going to walk you through the nuanced differences between two of the most asked about components of the audit: Controls and Procedures.
What Is An Organizational Control?
An organizational control is the process in which an organization or business guides its internal members to behave in ways that lead to the ultimate completion of agreed upon objectives. These controls are designed to keep everyone inside of the organization on a uniform path of success. Most controls contain four steps, including the establishment of standards, measurement of current performance, comparison of current performance to the established standards and a strategy to remedy any shortcomings. Remedies may include a change in standards or a change in systems and processes, as we will explore later. Controls can be as complex as a comprehensive manifesto or playbook. They can also be as simple as check list, schedule or product quality review. This piece of the puzzle must be up to par to prevent security breaches, fraud and inadequate products. Think of controls as an all-encompassing accountability metric.
What is a Procedure?
Simply put, procedures are the systems that are set in place to meet the established standards of the organization. These are specific internal processes. Procedures ensure operational efficiency, minimize fraud potential and define the roles and responsibilities of team members. These should have a routine schedule as to keep efficiency in check and to record a living record of productivity.
A process becomes a control when it is well-documented and acted upon. Documentation can later be used as evidence, by a professional SOC audit firm, to evaluate the overall effectiveness and security of your organization. This information can then be organized and relayed to investors to provide an added sense of transparency and trustworthiness. The biggest takeaway from all of this? All controls are procedures, but not all procedures are controls. Knowing the semantic differences ahead of time will help minimize the time frame of your SOC audit.
Have additional questions regarding controls, procedures and SOC audits? Contact Holbrook & Manter today.